Contributing to CR0WD
2020 – ongoing
The Just Places Lab is one of the founding partners in the CR0WD (Circularity, Reuse, and Zero Waste Development) network. CR0WD developed out of an alliance of community and academic leaders concerned with a vast system of building material waste within New York State. CR0WD seeks to advance sustainability, resilience and green jobs within the built environment. CR0WD partners conduct research and community engagement related to developing climate resilience through conservation of the built environment. The Just Places Lab actively contributes to the CR0WD network in concert with the other partners such as the Circular Construction Lab, the Susan Christopherson Center for Community Planning, Finger Lakes ReUse and Historic Ithaca.
Just Places Lab researchers have conducted research and policy analysis, created films and other media; designed an exhibition; mapped and conducted spatial analyses to understand demolition and remodeling activity; and engaged with developers, architects, planners, and reuse specialists. We are focused on working toward decarbonization, social equity, and place attachment by inspiring creativity through a spectrum of treatments to care for the built environment from building preservation and adaptive reuse to deconstruction, salvage, and reuse of reclaimed materials.
Image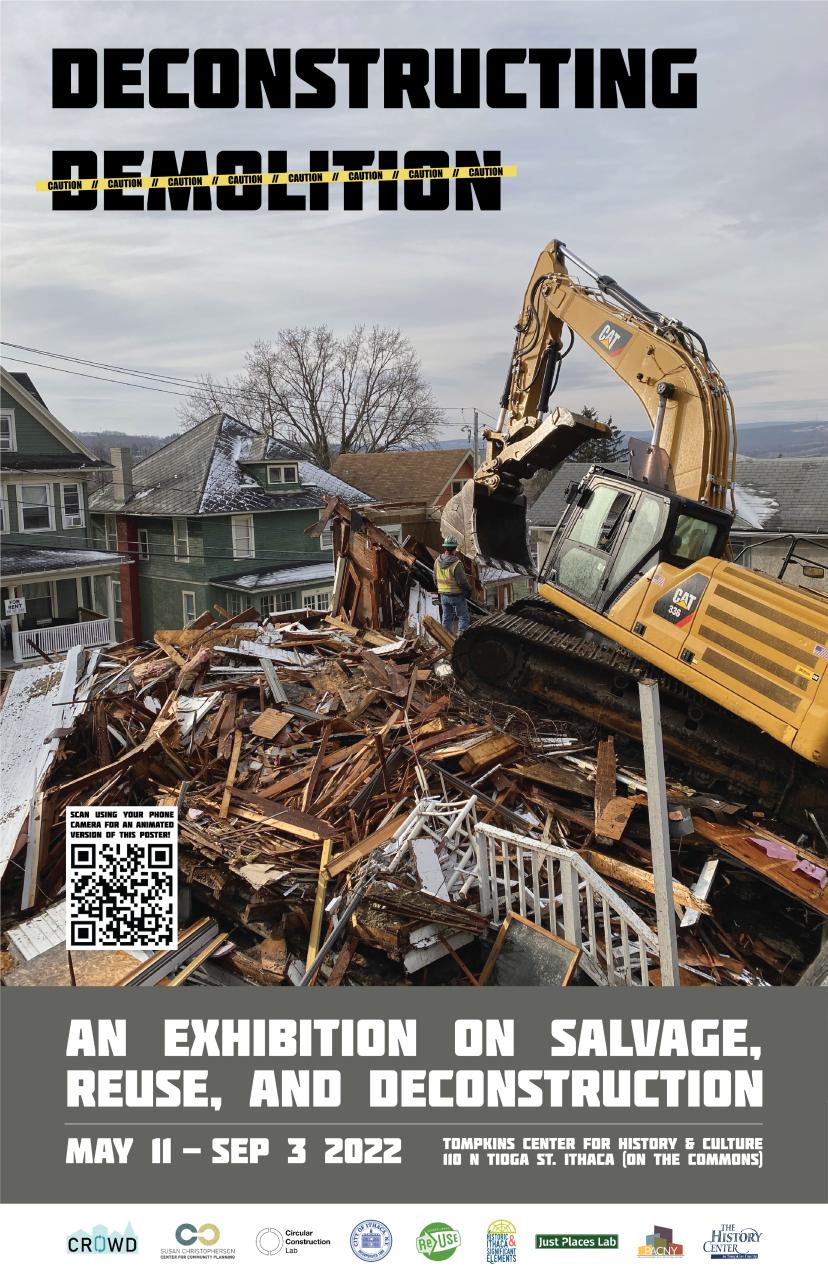 Ongoing Exhibition: Deconstructing Demolition.
---
Image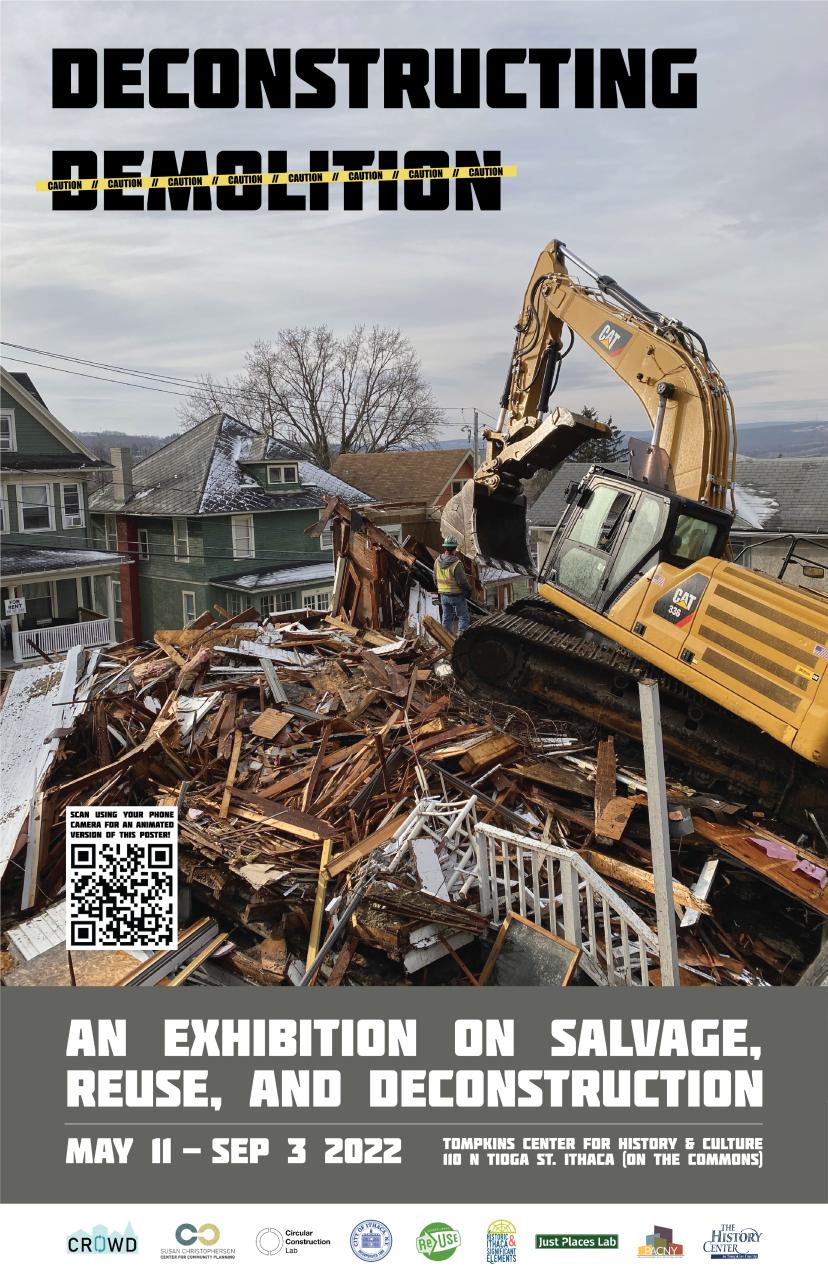 As a part of the partner network CR0WD (Circularity, Reuse and Zero Waste Development), the Circular Construction Lab and the Just Places Lab are co-curating the exhibition Deconstructing Demolition. The exhibition runs May 11 - September 3 2022 in the atrium of the Tompkins Center for History and Culture located at 110 N. Tioga St. in downtown Ithaca, New York.
The exhibition combining physical building materials with augmented reality and interactive visuals is intended to introduce a general audience to the negative externalities of extant demolition practices and provide information on alternatives in the form of salvage, reuse and deconstruction. Alternatives to demolition are presented through the lenses of environmental sustainability, preservation of community value, employment opportunity, and a reimagining our relationship to the built environment.
As part of the collective effort to put on the exhibition, members of the Circular Construction Lab captured materials and video, conducted research and calculated environmental impacts, as well as curated and built the exhibition. Credits for the exhibition go to Cornell Circular Construction Lab (Felix Heisel, Allexxus Farley-Thomas, Andrew Boghossian, Melody Chen, Joseph McGranahan), Cornell Just Places Lab (Jennifer Minner, Wyeth Augustine-Marceil, Melody Chen, Wen He, Mariam Fatima), Susan Christopherson Center for Community Planning (Gretchen Worth), Historic Ithaca, Significant Elements (Susan Holland, Christine O'Malley),  Finger Lakes ReUse (Diane Cohen), Contento Recycling (Anthony Contento). Thank you to generous support from the David M. Einhorn Center for Community Engagement, the Clarence S. Stein Institute for Urban and Landscape and the Cornell Department of City and Regional Planning and Fred Cowett and Diana Reisman.
Recent Publications Featuring CR0WD
---
Image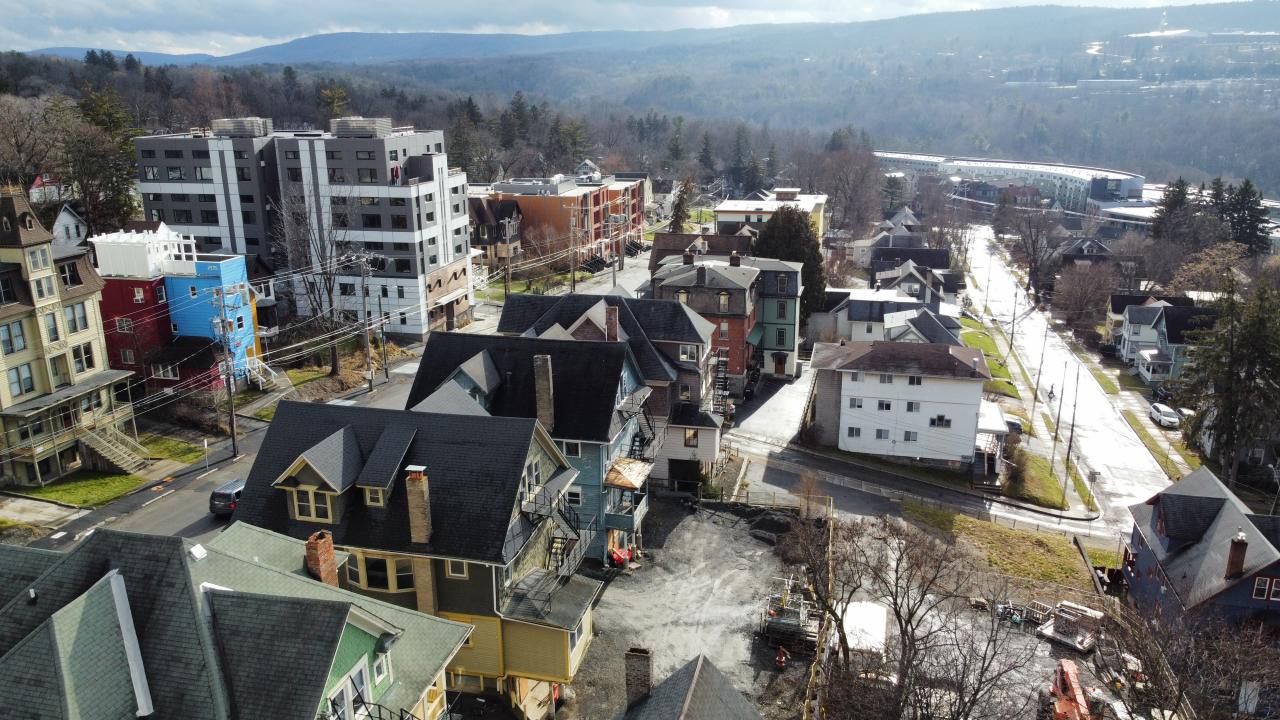 Image