Wasted Imagination: How City Landscapes Can Be Remade
2022 - Ongoing
The Just Places Lab seeks to illuminate the ways in which city planning and visual media can aid in the transformation of public imagination to see urban waste as a resource in the remaking of city futures. With generous funding from the Clarence S. Stein Institute for Urban and Landscape Studies, Just Places Lab researchers are conducting research and producing visual media – including maps, large-scale graphical posters, and videos – to trace both the impacts of construction and demolition debris and the innovation in deconstruction and reuse of building materials. In tandem, the Just Places Lab is organized an art exhibition and is conducting research and producing visual media to unpack and refresh the relationship between our ideas of waste and the remaking of places.
Freshkills: An Exhibition by Artist Jade Doskow
As a part of this project, Just Places Lab organized an exhibition by artist Jade Doskow that ran from October 10 – November 4, 2022 in Cornell AAP's Hartell gallery. Jade Doskow is the Photographer-in-Residence of Freshkills Park in New York City.
Image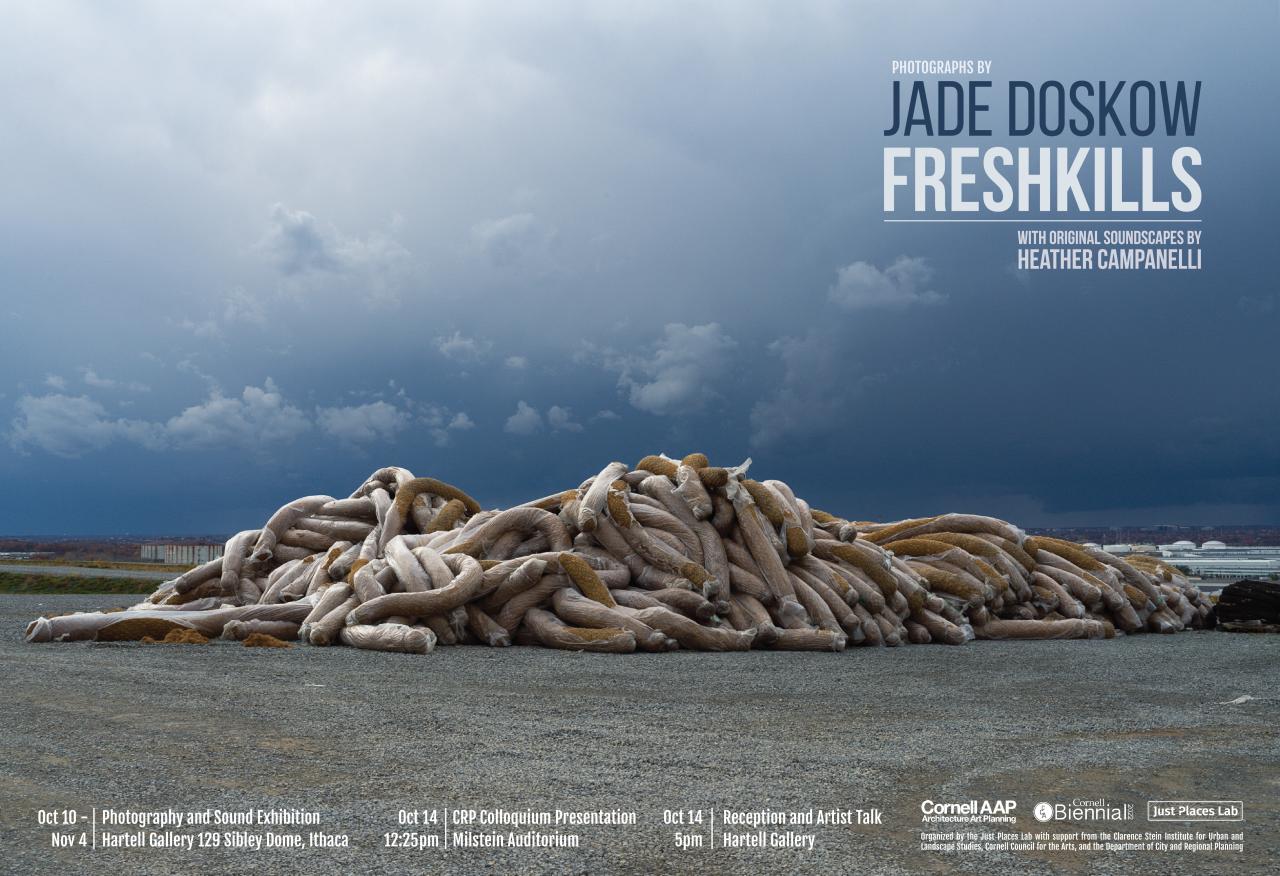 In operation from 1948-2001, Fresh Kills Landfill in Staten Island became the largest household garbage dump globally, receiving 150 million tons of New York City's solid waste during that time. Staten Islanders fought to have the site closed for years, tired of living with the noxious odors and the notoriety the site created for their borough. Agreements between the State and City were made in the 1990s to close Fresh Kills once and for all and the last barge of garbage was accepted on March 22, 2001. The only time it was reopened was to accept materials from the World Trade Center tragedy in Manhattan in 2001, rendering a portion of the site historically significant into the future. In the early 2000s, the conceptualization of landfill-to-wilderness park entered civic conversation, and thus began a radical transformation. Now known as Freshkills Park, it is to date the largest landfill-to-park transformation on the planet.
Doskow's large-scale photographs of the iconic New York landfill-turned-park make clear its paradoxical, ethereal beauty, while creating an important archive of a major chapter within the story of New York City's infrastructure. The topography of the site--undulating and sculpted by Sanitation engineers and through Doskow's lens--offers its complexity through her careful and probing large-format work, playing with scale and form, abstraction and figuration. Doskow's photographs highlight the immense complexity of Freshkills, both the luminous, open, meadows as well as the highly engineered systems enabling this modern wilderness to function.
During this time of climate catastrophe, Freshkills Park offers a compelling (albeit complicated and imperfect), optimistic view of how visionary urban planners can take a landscape that has been completely destroyed and resurrect it, literally transforming the garbage of the U.S.'s most populous city and creating grasslands replete with rare species of flora and fauna, rolling hills dotted with flowers, and waterways once again attracting marine life. Doskow's work asks us as such: if 2,200 acres of New York City's household waste can be transformed into glorious meadowlands and woodlands, what else is possible? More about Jade Doskow. 
The Just Places Lab organized this exhibition and lab researchers followed Jade Doskow to Staten Island to document her process. 
Both elements of this project are aimed at rethinking city landscapes of waste, including construction and demolition sites and the remediation of a landfill. The community is invited to re-envision these places associated with waste through the lenses of circular economy and social justice. This research and the production of creative media will be conducted in partnership with the Circularity, Reuse and Zero Waste Development (CROWD) network.
What's the connection to Clarence Stein?
 "What are we putting into the Great City, and what are we getting out of it? … Is the Great City still the goal of our legitimate desires, or is it a monstrosity, a bloated spider that lures us into its web only to devour us?"
- Clarence Stein (1925) in "Dinosaur Cities" in The Survey, p. 135
In Clarence Stein's famous essay Dinosaur Cities, the renowned architect and city planner identified the shortcomings of American's great cities and emphasized the dangers of maintaining the status quo. Stein called upon the radical remaking of even the basic infrastructure of cities, including provision of water and sewer. He noted the crisis of municipal waste. Through radical new visions for city planning, Stein and the Regional Plan Association of America (RPAA) advocated for new means of holistically addressing pressing urban issues through design. The RPAA advocated for large-scale transformations in the relationship between society and nature, producing plans, brochures, articles, and other public media. Over 95 years later, there is still a need for change, especially in how waste flows from environmental extraction to city consumption to landfill. These processes are especially problematic in the enormous carbon footprint generated through construction, remodeling, and demolition associated with maintenance of urban fabric.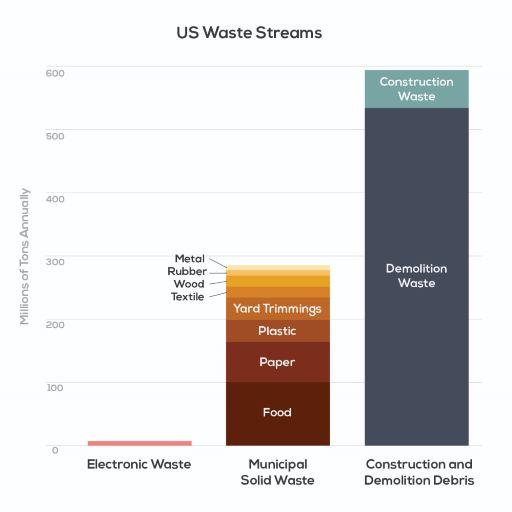 While Stein's visions called for the redesign and construction of new communities, this project calls for new initiatives in existing communities through reimagining our relationship to waste. Enormous amounts of waste are produced in the everyday cycles in cities. Some of that is municipal solid waste, while an even greater proportion comes from the construction, demolition and renovation of buildings. An estimated 600 million tons of construction and demolition (C&D) debris are generated in a single year in addition to municipal solid waste.[1] In order to address climate change, the embodied carbon must be addressed through efforts to incentivize or require salvage and deconstruction and policies that encourage building reuse, maintenance, adaptation, care.
This project is producing scholarly work, while elevating the work of the Just Places Lab and organizational partners in the Circularity, Reuse, and Zero Waste Development (CR0WD) network. Stein and the RPAA questioned the status quo, evoking the idea "dinosaur cities" and the possibility of extinction. Inspired by Stein's urgency and creativity in pressing for radical change, project uses participatory research and the production of visual media to explore how we can "see" the problem of waste in new ways. Similar to Stein's work, the products of this participatory and imaginative process are aimed at generating long-lasting policy change that is realized in the way that we design and care for places.
---
[1] From US Environmental Protection Agency 2018 Fact Sheet. The fact sheet also states that 90 percent of this waste is from demolition; 10 percent from new construction.